Paintsville Police Dept Investigating Theft



The PPD also are continuing to investigate a burglary that occurred in the 200 block of Hidden Valley Rd. Unknown person(s) made forced entry through the front door and emptied two containers of change. Anyone having information on this incident is urged to contact the agency. Incident remains under investigation by Officer Billy Ramey and was assisted by KSP Trooper Jake Stinnett. Anyone with information concerning this theft is asked to notify the agency at 606-789-2200 or by This e-mail address is being protected from spambots. You need JavaScript enabled to view it .



Deadly Home Fire Reported In Pike County



Pike County officials are investigating the death of one individual after that person was killed in a home fire. Officials say the fire happened overnight Thursday on Cletus Webb Road in the Grapevine community but officials said fire crews were unable to responded until the fire was out of control. No word on how the fire started and the victim's identity has not been released. No other injuries were reported and no other information is available at this time.



Man Arressted for Selling Marijuana to Informant in Boyd Co.



A man from Worthington, Ky. faces a marijuana trafficking charge following his arrest early Thursday morning. The Boyd County Sheriff's Office says 35-year-old Joshua E. Brown sold a half-pound of marijuana to a confidential informant in the parking lot of an Ashland business. Deputies say they watched the transaction take place from an unmarked car. Deputies say Brown was carrying a loaded handgun when he was arrested. Brown is being held in the Boyd County Detention Center.



Suspect Accused of Fataly Shooting W.Va Sheriff, Facing Additional Charges



The man police say is responsible for the murder of Mingo County Sheriff Eugene Crum is facing additional charges in connection with the Wednesday shooting. According to a release from West Virginia State Police, warrants have been issued for Tennis Melvin Maynard in connection with the attempted murder of a police officer stemming from the Delbarton incident. The Williamson Police Department will be responsible for any charges related to the shooting of Sheriff Crum. According to the release, it is believed that Maynard will survive his injuries. Maynard was shot multiple times after shooting Mingo County Sheridd Eugene Crum. No other details about his injuries are being released at this time. According to the release, a Glock .40 caliber was recovered by investigators at the Delbarton scene which they believe was used in the shooting of Sheriff Crum. In a special meeting of the Mingo County, West Va. Commission Thursday, Rosie Crum, the widow of slain sheriff Eugene Crum, will replace him as interim sheriff. His Zero Tolerance platform initiative against drugs will be continued.



Authorities Continue Search for a Woman who Robbed a Floyd Co. Store



Police are still searching for any leads to locating the suspect in a robbery of a Floyd County business. According to the KSP, the incident occurred March 30 at 10:19 pm when a woman walked into the Velocity Market in Betsy Layne brandished a firearm and demanded money. KSP describe the woman as between 5'0 - 5'3 tall, last seen wearing a tan jacket and black pants. The unidentified female left the area on foot. This incident remains under investigation by Kentucky State Police Detective Jason Dials. Anyone with information is asked to contact Kentucky State Police Post 9 at (606) 433-7711 or 1-800-222-5555.



Homeless Veterans Center to be Built in Pike Co.



A groundbreaking ceremony for a new special veterans center was held in Pike County earlier this week. Officials say the new Homeless Veterans Transitional Housing Center has the perfect location for serving Veterans in rural areas. The center will provide not only shelter for homeless veterans but also the needed training and resources to be self-sufficient in their communities. LeeAnn Bills with the Huntington VA Medical Center explains, "It will have 25 transitional beds, they can stay up to two years and can work gradually through a phased program where they learn employment skills, work on their resumes, and also address their mental and substance abuse issues while they are in there." The new center will be behind Shelby Valley High School.



Bridge Work Expected to Close Rt. 1428 in Floyd Co. for Four Months



Residents who frequently use Route 1428, between Prestonsburg and Allen, could face detours of 20 minutes or more over the next few months, as a bridge replacement project gets underway this month. The highway will be impassable at the site of the replacement, as contractor Bush and Burchett must first completely remove the old bridge, located near the Route 194 intersection, before beginning construction of the new bridge. The project will begin April 15 and the road will remain closed for four months, meaning those on one side of the bridge will need to detour via U.S. 23 and Lancer-Watergap Road to reach the other side. The new bridge is expected to be safer, compared to the current one and will be a single concrete span with 11-foot lanes and 3-foot shoulders. The current bridge does not have shoulders. This is a 24/7 closure.



JCSO Reminds Citizens of 2012 Property Taxes Deadline



According to a news release from the Johnson County Sheriff's Office, they would like to remind everyone that the deadline to pay the 2012 Property Tax bills is April 15th, 2013. After the 15th, the taxes will be turned over to the County Court Clerk's Office, where additional penalties will be applied. Also, April 15th is the last day to pay the 2012 Gas and Oil bills, before they are turned over to the Clerk's Office. Just a reminder, you may pay your 2012 Property Tax bills online. Just go to our website: http://sheriff.johnsoncounty.ky.gov click on the property tax link, and follow the prompts. You can also print copies of your 2011 and 2012 property tax receipts from our website for your records. If you have any questions regarding your property taxes, please call the sheriff's office at 789-3411.




Floyd County Sheriff Sentenced After DUI Guilty Plea


Floyd County Sheriff John K. Blackburn entered an unexpected guilty plea to DUI charges Tuesday afternoon in Powell County District Court. Blackburn will spend four days behind bars, have to pay 558 dollars in court cost and his license will be suspended for 120 days. Blackburn was arrested on a DUI charge last month by the Stanton Police Department. Police say he was driving in his sheriff's vehicle at the time. Police say on March 17th they received a call about a reckless driver at the 22 mile marker on the Mountain Parkway around 8:00 p.m. Police told us last month they observed the vehicle going over the center line and nearly hitting a guardrail. After pulling Sheriff Blackburn over, police say he spoke slowly, smelled of alcohol and had bloodshot eyes. An officer says he also found a partially consumed fifth of vodka in the car. According to the arrest report, Blackburn claimed he only drank water and that he was weaving because he'd been on his cell phone. Officers say Blackburn was cooperative and even took a breathalyzer test, blowing a .202. That's almost three times the legal limit. Police say he finally admitted that he came from the casino, where he did drink alcohol. Blackburn will serve his four day sentence at the Pike County Dentention Center.



A West Virginia Sheriff Fatally Shot; Suspect In Custody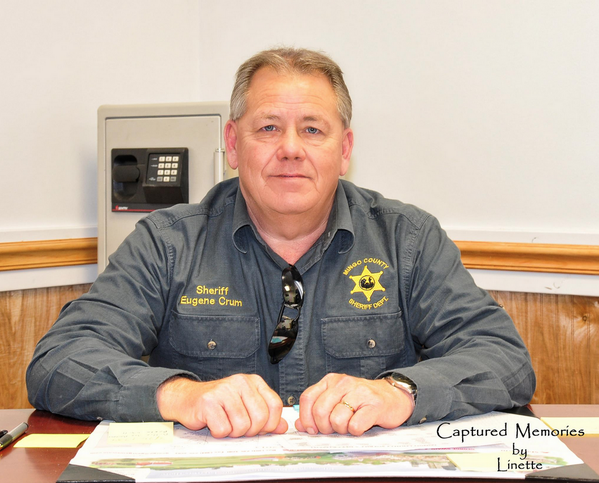 A state official says Mingo County W.Va. Sheriff Eugene Crum has been fatally shot and the suspect is in custody. Gov. Earl Ray Tomblin's chief of staff, Rob Alsop, says state police told the governor that Crum died after he was shot Wednesday about noon in Williamson within a block of the Mingo County Courthouse near the corner of 3rd and Harvey Streets. According to reports, the suspect fled the scene and a Mingo County Sheriff Deputy then tried to pull the vehicle over at the intersection of Route 65 and Rockhouse Road, but he (the suspect) then led the deputy on a chase through parts of Delbarton before both crashed into a barrier on the Dr. JR Bob Farley Memorial Bridge. From there, both men got out of their vehicles and the deputy shot the man, identified as Tennis Melvin Maynard, 37.  He is currently being treated at Cabell Huntington for a gunshot wound, but no further information has been released on Maynard. Officials are continuing to investigate to determine what caused this deadly incident.



Several Animals Killed in a Rowan County Barn Fire



Fire destroyed a barn and killed several animals in Rowan County early Wednesday morning. The farm is located along Upper Craney Road, about 15 miles outside of Morehead. The fire was discovered at around midnight after dogs began barking and alerted the residents. Officials say the blaze killed several goats and birds and several other goats suffered burns. Firefighters say they don't know what caused the fire, but say it might have been an electrical issue. The investigatin into the cause of the fire is continuing.



Fire Damages Home in Floyd County



Floyd Co. fire crews are continuing their investigation of a fire that severely damaged a home early Wednesday morning.. Ky. State police say the fire started around 2 AM Wednesday morning on Plummer Fork in Floyd County, which is off of route 7 near the Knott County line. Reports indicate there were no injuries in the fire, but the home was heavily damaged. No further information has been provided at this time.



Additonal Documents Seized in Martin County Clerk's Office Investigation



On Tuesday, Kentucky State Police seized additional documents from the Martin County Clerk's Office in connection with an ongoing investigation involving two former deputy clerks, who are the daughters of current Circuit Clerk Carol Sue Mills. In December, Tonya Mills (Delong), 47, and Tamberlyn Sue Hairston, aka "Tammy Perry", 41, both of Lovely, Ky., were indicted following an investigation by the Kentucky State Auditor's office that found more than $20,000 in unaccounted funds in the clerk's office. Mills is charged with one count of abuse of public trust over $10,000. Hairston is charged with one count of abuse of public trust less than $10,000 and four counts of second-degree criminal possession of forged instrument. Information has not ben released about what the documents and records concerned. Both women have pleaded not guilty to the charges and their trials are set for September.



State Data Show 4,000 Coal Jobs Lost in 2012



More than 4,000 coal industry jobs were lost in Eastern Kentucky last year, according to new state data, leaving one organization to call for new ideas for regional development. Numbers from the Kentucky Department of Energy Development and Independence show Eastern Kentucky coal production in 2012 dropping 27.9 percent to its lowest level since 1965, translating to a loss of 4,068 jobs in the region. These figures should make it apparent that Eastern Kentucky's economy, which has traditionally relied on a robust coal industry, needs to move in a different direction that includes other types of industry, said Justin Maxson, president of the Mountain Association for Community Economic Development. Much of Eastern Kentucky's loss in coal production resulted from of a lack of demand due to companies switching to natural gas as an energy source. Additionally, advances in pollution control technology at coal-fired plants allowed for the increase of production and use of higher sulfur coal mined in the Western Coalfields.

Floyd County in 2012 ranked as the 13th largest producer of coal in Kentucky with 2.3 million tons, a drop of 18.1 percent over the previous year. Mining employment in Floyd County decreased 24.1 percent during the year to 530. Production in Pike County, which annually ranked as the top producer of coal in the state, dropped nearly 18 percent, with a decrease in employment of 28 percent. Knott County lost nearly 700 mining jobs in 2012, dropping 63.2 percent to only 330 employees. Significant drops in employment were also seen in the eastern counties Harlan, Martin, Leslie, Letcher, Floyd, and Bell counties. Western Kentucky production, in comparison, increased 2.5 percent to 42 million tons, eclipsing the rate of production in Eastern Kentucky for the first time since 1960. Average employment in Western Kentucky remained flat. Union County, located in Western Kentucky, became the state's largest producer of coal in 2012 with an increase of 9 percent to 13.4 million tons.




 
 



Floyd Co. Man Killed In Massive Pileup In Virginia



A Kentucky man was among the three people killed in an interstate pileup in in Virginia over the weekend. The happened Sunday on I-77 near the North Carolina line. 75 vehicles in all were damaged, more than two dozen people sent to the hospital. Virginia state police say 33-year-old William Sosebee of Floyd County died in the crash, along with an Ohio man and a North Carolina woman. Investigators say heavy fog played a role in the wrecks.



Morgan Co. Burglary Case Possibly Case of Mistaken Identity



Morgan County officials say a man is facing burglary charges in what they say could be a case of mistaken identity. According to West Liberty Police, Alexander Vance forced his way into a home on Sunday morning, but the homeowner found him and escorted him outside as police arrived at the scene. Police now say Vance was under the influence and may have been confused about where he was. The investigation continues by the West Liberty P.D. and no further information has been released.



Perry County Man Could Face Death Penalty In Triple Murder Case



A Perry County man charged in a triple murder case could face execution now that prosecutors are seeking the death penalty. According to reports in the Hazard Herald, Dalton Stidham, 21, is accused of shooting and killing three people outside of Hazard Community and Technical College in January. Two of the victims, Caitlin Cornett and her uncle, Jackie Cornett, were pronounced dead at the scene. Taylor Cornett, 12, died the following day at UK Hospital. So far, Stidham has not entered a plea in the case. His trial has been set for September.

Lawrence Co. Man to Appear in Court April 12 to Answer to Abuse Charges

A Lawrence Co. man will have his day in court to answer to who abuse charges he has been indicted on. Nicholas Ballou is scheduled to appear on April 12 and a jury trial has been scheduled for May 20 at 9 a.m. In the Lawrence County Circuit Courtroom. The Lawrence County Grand Jury has charged Ballou with first degree assault and first degree criminal abuse on a child under 12 years of age. The indictment alleges that he caused serious injury to his two month old son, Landyn, back in August of 2011. Ballou told his now ex-wife Amy that the baby had choked on his baby bottle. However, the child suffered major head trauma that left him legally blind and with permanent brain damage with three skull fractures. Ballou had been on the run for several months after the charges were brought against him and after being picked up in Elliott County he was brought back to Lawrence County to face the charges against him. In Novemebr of last year, prosecutors feared if Ballou was granted a bond reduction, he would run once more and Lawrence Circuit Judge John D. Preston agreed and denied a request for bond reduction made by his attorney. Ballou continues to be held at the Big Sandy Regional Detention Center on a $15,000 cash bond.



Nine Die On Kentucky Roadways Last Week (Mar. 25 through Mar. 31)



Preliminary statistics* indicate that nine people died in seven separate crashes on Kentucky's roadways from Monday, Mar. 25 through Sunday, Mar. 31, 2013. One triple-fatality, motor vehicle crash occurred in Christian County. One single-fatality, motor vehicle crash occurred in each of the following counties: Jefferson, Mason, Metcalfe, Muhlenberg, Pike and Whitley. The victims in Jefferson, Mason, Metcalfe, Muhlenberg and Pike counties were not wearing seat belts. Through Mar. 31, preliminary statistics* indicate that 124 people have lost their lives on Kentucky roadways during 2013. This is 32 less than reported for this time period in 2012. Of the 109 motor vehicle fatalities, 54 victims were not wearing seat belts. One of the four motorcycle fatalities was not wearing a helmet. Ten pedestrians have been killed. One fatality involving an animal drawn vehicle has been reported. A total of 26 fatalities have resulted from crashes involving the suspected use of alcohol. As of Mar. 31, Kentucky has had 25 days with zero highway fatalities reported during 2013. Citizens can contribute to highway safety by reporting erratic drivers to the Kentucky State Police toll-free at 1-800-222-5555. Callers will remain anonymous and should give a description of the vehicle, location, direction of travel and license number if possible.



Gov. Beshear Still Considering Industrial Hemp Bill



Gov. Steve Beshear has until Saturday to sign or veto a bill that would open the door to industrial hemp farming in Kentucky. So far, he hasn't said what he'll do. The General Assembly passed the bill last Tuesday in the final minutes of this year's legislative session, giving the governor 10 days excluding Sundays to veto it, according to the Legislative Research Commission. The bill would allow Kentucky farmers to grow hemp if the federal government lifts its decades-long ban on the plant. Hemp can be used to make products ranging from paper to cosmetics. It thrived as a crop in Kentucky for generations before it was classified as a controlled substance related to marijuana. Although hemp is similar to marijuana, it has a negligible amount of THC, the psychoactive compound that gives marijuana users a high. Some law enforcement officials have expressed concerns about the bill, saying marijuana growers could use hemp to camouflage the illegal drug. But proponents say marijuana growers would avoid planting it near hemp because the drug could lose its potency. Meanwhile, Kentucky's U.S. senators, Republicans Mitch McConnell and Rand Paul, have said the General Assembly' passage of the bill will help them pressure the federal government to relax hemp restrictions. A bill to legalize industrial hemp is pending in Congress. Paul told reporters last week that he will ask the federal Drug Enforcement Agency to give Kentucky and other states a waiver to cultivate hemp. Kentucky Agriculture Commissioner James Comer called Beshear last week to urge the governor to sign the bill, according to Holly VonLuehrte, Comer's chief of staff. VonLuehrte said Comer talked to Beshear about the potential economic growth hemp farming could bring to Kentucky.



City of Paintsville awarded $10,000 Appalachian Regional Commission Mini-Grant



According to a news release from the Center for Rural Development, the City of Paintsville has been awarded a $10,000 Appalachian Regional Commission (ARC) mini-grant to advance strategic planning efforts in the region as part of the latest round of grant funding presented by The Center for Rural Development. The city will use the grant funding to procure a consulting engineer to assist with the development of a conceptual recreation park plan and feasibility assessment for the Treays Branch Development Planning Project. Based on the results of surveys, the potential amount of land for the development plan will be between 30 and 50 acres. The latest ARC grant recipients were announced Thursday, March 28, by Lonnie Lawson, president and CEO of The Center, at an ARC Summit and awards ceremony at The Center in Somerset. The City of Paintsville is one of 10 communities and organizations in Southern and Eastern Kentucky to be awarded funding through The Center's Developing and Implementing Community Strategies Program.


Paintsville Police Dept. Releases Monthly Report for March 2013



According to a news release from the Paintsville PD, the following is a monthly activity report for the month of March 2013.

Theft complaints(includes shoplifting) – 18
Alcohol intoxication – 7
Controlled substance violations –9
D.U.I. – 2
Accident without injury – 16
Accident with injury – 2
Warrants served – 25
Traffic violations – 52
Dispatched calls (CAD) – 532
Mentally ill complaints – 0
Domestic disputes – 6
Assault complaints – 3
Disorderly conduct – 3
Burglary – 1
Robbery - 0
Alarms – 46



Salyersville Man Sentwenced to 6 Years in DUI Death



A Salyersville man has excepted a plea deal to second-degree manslaughter in exchange for a potentially shorter prison term. According to the Kentucky Enquirer, they report 29-year-old Jonathan Keeton was sentenced to six and a half years in prison last week. He had pleaded guilty in the death of a passenger in his car, 31-year-old Connie Sutherland of Salyersville. Sutherland died along Interstate 71/75 after Keeton's car veered off the road and struck a culvert in July 2012. Police said neither Sutherland nor Keeton wore seat belts and Keeton's blood-alcohol level was 1.9 - more than twice the presumed level of intoxication. He could have faced 10 years in prison if convicted during a jury trial.



Police Continue Investigation into a Weekend Armed Robbery in Floyd Co.



KSP are continuing to investigate a robbery that occurred at the Velocity Market in the Betsy Layne community of Floyd Co. Kentucky State Police say the market was robbed just after 10 p.m. Saturday, March 30. Troopers say a woman walked in, pulled out a weapon and demanded cash. She then ran off on foot. The woman was last seen wearing a green shroud covering her face, along with black pants and a tan coat and described as approximately 5' to 5'3'' in height. This incident remains under investigation by Kentucky State Police Detective Jason Dials. Anyone with information is asked to contact Kentucky State Police Post 9 at (606) 433-7711 or 1-800-222-5555.



Felony Assault Arrest made in Carter County



Kentucky State Police in Ashland have arrested a Carter County resident on a charge of assault after responding to a call of an altercation between two individuals. On Sunday March 31, 2013 The Kentucky State Police responded to 1227 Greenbriar Road, Olive Hill KY at the request of the Olive Hill Fire Department. It was reported the Fire Department was on scene of a structure fire and witnessed what appeared to be an altercation between individuals at a neighbor's residence. Information obtained during the investigation revealed Johnny Canterbury and Curtis Sloan engaged in a verbal argument over the structure fire and a physical altercation then occurred. Sloan was transported to St. Claire Medical Center for non-life threatening injuries sustained to his head and facial area. Canterbury refused any medical assistance on scene and was arrested without incident. The cause of the structure fire is currently under investigation and no additional details are available for release at this time. Johnny Canterbury, age 27, of Greenbriar Road in Olive Hill, KY was arrested, charged with Assault 2nd Degree and lodged in the Carter County Detention Center. The case is still under investigation by Trooper Bryant Marcum.



Tax Time - Do You Need Help?



FRANKFORT, Ky. - April 15. It's a day not loved like New Years Day or the Fourth of July, but it's reality. With the tax return deadline closing in, the coordinator of a program that provides free tax-preparation help says you may be surprised. According to Vickie Johnson of the Kentucky Asset Success Initiative, if you haven't filed your taxes in recent years, because you weren't required to, you could be missing out on hundreds of dollars. "If they worked in that tax year it can benefit them to file their return," Johnson said. "If they had taxes withheld from their paycheck, it's likely that they'll get those back in a refund. And, they may also qualify for some credits that they could claim." Johnson noted that there's no penalty for filing a return late if you are due a refund. The IRS estimates that $917 million in refunds from 2008 remain unclaimed. Taxpayers have three years to claim a refund before it becomes the government's property, which means the deadline for filing a 2009 return is April 15, two weeks hence. The free-help program that Johnson coordinates, the Kentucky Asset Success Initiative, is available to families making less than $51,000 a year. "It's a volunteer-run program, so we can do simple returns. We can do itemizations. We can do self-employment with some restrictions," she said. "So, there is a wide range of tax returns that we can help people with." Last year's free tax prep helped more than 11,000 Kentucky families get back nearly $19 million in federal and state refunds. For more information you can call 1-800-456-3452, or for help go to assistance.ky.gov or to KACA.org.



JCSO Reminds Citizens of 2012 Property Taxes Deadline



According to a news release from the Johnson County Sheriff's Office, they would like to remind everyone that the deadline to pay the 2012 Property Tax bills is April 15th, 2013. After the 15th, the taxes will be turned over to the County Court Clerk's Office, where additional penalties will be applied. Also, April 15th is the last day to pay the 2012 Gas and Oil bills, before they are turned over to the Clerk's Office. Just a reminder, you may pay your 2012 Property Tax bills online. Just go to our website: http://sheriff.johnsoncounty.ky.gov click on the property tax link, and follow the prompts. You can also print copies of your 2011 and 2012 property tax receipts from our website for your records. If you have any questions regarding your property taxes, please call the sheriff's office at 789-3411.



Paintsville Mayor Signs Proclamation to Increase Efforts to Fight Child Abuse



The following is a copy of a proclamation signed by Paintsville Mayor Bob Porter on April 1, 2013.

Whereas, child abuse is a common problem and finding solutions depends on involvement among people throughout the community; and
Whereas, the effects of child abuse are felt by whole communities and need to be addressed by the entire community; and
Whereas, effective child abuse prevention programs succeed because of partnerships created among social service agencies, schools, religious and civic organizations, law enforcement agencies and the business community; and
Whereas, all citizens should become more aware of the negative effects of child abuse within the community and become actively involved in its prevention:
Now, Therefore, Mayor Bob Porter and members of Paintsville City Council call upon all citizens, community agencies, religious organizations, medical facilities and businesses to increase their participation in our efforts to preventchild abuse, therby strengthening the community in which we live.

Given under my hand as Mayor of the City of Paintsville on this the 1st day of April 2013. - Bob Porter, Mayor of the City of Paintsville.



 
 
KSP Investigating Armed Robbery at a Floyd Co. Business



According to a news release from the KSP in Pikeville, on Saturday March 30 at 10:19 P.M. Post 9 Pikeville received a call of an Armed Robbery at the Velocity Market in the Betsy Layne community of Floyd County. Information obtained at the scene indicated that an unidentified female entered the business, brandished a weapon and demanded cash. The unidentified female left the area on foot. The female was described as approximately 5' to 5'3'' tall, wearing black pants, tan coat, and a green shroud over her face. This incident remains under investigation by Kentucky State Police Detective Jason Dials. Anyone with information is asked to contact Kentucky State Police Post 9 at (606) 433-7711 or 1-800-222-5555.



Floyd Co. Murder Case Sent to Grand Jury



The Floyd County man accused of murdering a man in his sleep earlier this month appeared in Floyd County District Court Thursday for a preliminary hearing. Ronald Wright, 64, of Printer, is accused of killing Famer Halbert while Halbert slept at his home on March 12. Wright is charged with one count of murder and one count of attempted murder. According to KSP Det. Jason Dials, he testified witnesses told him that Ronald and Loretta Wright were visiting with Halbert's wife, Lorene, for roughly a half hour before Ronald Wright asked to use the restroom. While Loretta Wright and Lorene Halbert spoke on the front porch, they heard a gunshot from inside the house. Ronald Wright allegedly met the two in the kitchen, and took aim and shot Lorene Halbert, who ducked behind Loretta Wright. Lorene Halbert was shot in the arm. A struggle then ensued over the weapon, at which time Ronald Wright was also shot. Family members have said that the Wrights blamed the Halberts for the death of their son, Matthew, in November. Dials testified that Famer Halbert was killed with a high caliber handgun, and that Ronald and Loretta Wright's vehicle was searched and a box of .357 caliber pistol shells was found. Dials also testified that a bullet fragment was found by the Halbert family in the kitchen of the home three days after the shooting. Gunshot residue tests were taken on both the Wrights and the Halberts. District Judge Jimmy R. Marcum remanded the case to a grand jury. Loretta Wright appeared in court last week for a preliminary hearing in Floyd District Court. She is charged with complicity to commit attempted murder and complicity to murder, and the case against her was also sent to the grand jury. Ronald Wright is currently being lodged in the Floyd County Detention Center, with bail set at $1 million.



Woman Pleads Guilty in Murder Case



A woman has pleaded guilty to killing a man in Knott County in 2011. Shauna Slone was charged with murder, robbery and tampering with evidence after the death of 60-year old Ruby Slone. His body was found in a field in Mallie in November, 2011. She's expected to be sentenced May 9th.



Two Pike County men admit to taking part in workers' comp fraud scheme



Two Pike County men who employed contract coal miners have admitted taking part in a multimillion-dollar scheme to defraud a workers' compensation provider. Frelin Workman, 58, and Randy Lee Workman, 36, both of Belfry, pleaded guilty this week in federal court in West Virginia, according to a news release from Booth Goodwin, U.S. Attorney for the southern part of that state. Frelin Workman and a partner, Jerome Edward Russell, 50, of Williamson, W. Va., operated a company called Aracoma Contracting LLC, which provided miners to coal companies in West Virginia on a contract basis. Randy Lee Workman operated a similar employee-leasing company called Christian Contracting. Both of the contracting companies were responsible for carrying workers' comp coverage on the miners, according to court documents. The two companies bought coverage through BrickStreet Mutual Insurance, the largest comp provider in West Virginia, according to the news release. The cost of comp insurance is based in part on the number of employees covered at a company. Both Frelin and Randy Lee Workman admitted paying a significant number of employees in cash to avoid the costs of employment taxes, workers' comp and unemployment insurance, court documents show. The federal government plans to confiscate $415,000 from Sargent, as well as a 2012 Dodge Ram pickup truck, a Harley-Davidson motorcycle and a Yamaha all-terrain vehicle. A fifth man involved in the scheme, Arthur J. White Jr., 60, of Lenore, W. Va., pleaded guilty to tax evasion and structuring financial transactions to avoid reporting requirements. Frelin and Randy Lee Workman, Sargent and Russell face up to 25 years in prison. They are to be sentenced in July. White could be sentenced to up to 10 years.



Governor Names New Knott County Judge-Executive



Governor Steve Beshear has appointed a new judge-executive for Knott County. Zach Weinberg will fill the shoes of Randy Thompson, who went to prison in 2012 after being convicted of vote buying. Jamie Mosley is a magistrate who has been filling in as Knott County Judge-Executive for the last month. Zack Weinberg will complete Thompson's term, which will be up next year.



Kentucky Power making plans to replace a generator



Kentucky Power is looking for a plan to replace how electricity is generated in the unit 1 generator at the Big Sandy Power Plant near Louisa. The generator currently burns coal for electricity and produces 278 megawatts of power in the Big Sandy region. Kentucky Power is looking for the most cost- effective replacement for unit 1 and is evaluating purchasing up to 250 megawatts of power from other sources. Unit 1 is scheduled for retirement in 2015.