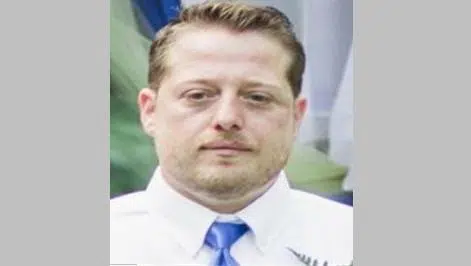 The following is a press release from the Johnson County Sheriff's Office:
Johnson County Deputies responded to a call on  Kentucky  Rt. 825 off of 460.  The call was in reference to an individual in a front yard acting suspicious.
Upon Deputy Martin's arrival, he noted an individual in the yard holding a Bible and talking toward the sky.  Deputy Martin tried to talk with the individual.
At that time, the individual became combative.  Deputy Martin deployed a taser to detain the individual.  The male individual broke lose from the taser.  He ran into his residence and barricaded himself.
Sheriff Price was then contacted and given the status.  Sheriff Price then contacted Deputy Chris Blair who arrived on scene to provide back up to Deputy Martin.
Both deputies on scene heard several gunshots coming from inside the residence.  Sheriff Price advised to contact KSP for additional back up.
KSP arrived on scene as well as Captain Donnie Shearer.
Upon, sheriff Price's arrival.  He spoke with family members.  They stated that he had several firearms in the house including a AR Assault Rifle.  They also stated that to the best of their knowledge he was the only one in the residence.
Sheriff Price conversed with Captain Shearer, it was decided to contact SRT for the safety of all involved.
At 20:10 hours, Johnson County Sheriff's Office and KSP are still on scene awaiting SRT's (Special Response Team)  response.
Sheriff Price stated, "I'm glad we have a good relationship with KSP. They were on scene in a timely manner.  When gunshots are being fired, it is good to know back up is there."
Sheriff Price advised, "There is no danger to the public. The scene is isolated to the residence."
Several hours after the stand-off began, officers had continued to try and make contact with the subject.  Subject continued not to respond to calls or verbal  PA requests.
Subject continued to fire shots.  Some consecutive.  Some spaced within seconds.
Suddenly the door of the residence opened.  Subject began rapid fire toward the KSP cruisers that JSCO and KSP officers had taken cover behind.  Both cruisers were hit repeatedly.
Officers returned fire.  All shots from the residence ceased.  Officers then again continued to try and make contact with the subject.
SRT arrived on scene.  SRT then used a K-9 and robot to enter the residence.  It was found that the shooter was deceased inside the residence.
Sheriff Price said, "There are times that no matter what anyone says or does, an incident doesn't end the way you want it too.  Tonight, was one of those times.  From the arrival of Deputy Martin until the subject opened the door and began rapidly firing, toward our location behind the KSP cruisers. We had continued to try and make contact.  As officers, our hope and goal is always to defuse the situation so everyone is safe."
Sheriff Price went on to say, "The officers that were here tonight showed extreme courage and fortitude.  I appreciate and respect the KSP officers that were on scene.  I also appreciate and respect the Johnson Count Sheriff Office officers that were on scene."
Price ended by saying, "My heart goes out to his family.  This has been a long night for them as well."
The subject has been identified as Stephen Dalton of Oil Springs.