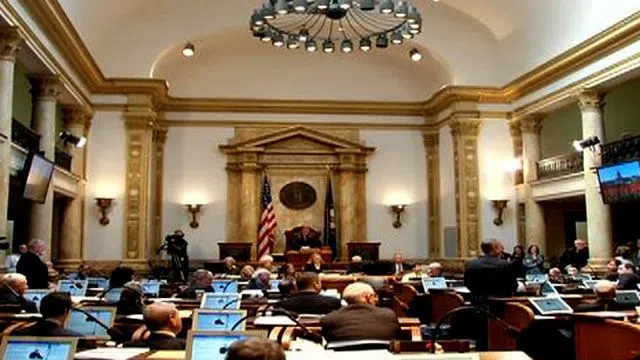 With the days winding down in the 2018 legislative session, the Kentucky Senate followed in the footsteps of the House committee and passed a bill Thursday night aiming to reform the state's pension plan. Senate Bill 151, which was originally filed as an act related to wastewater services, but contained elements of Senate Bill 1 that was unsuccessful in its passage. The bill passed the House committee 11-8, mostly on party lines with many Democrats voicing displeasure saying the nearly 300-page document was just handed to lawmaker's minutes before the committee meeting. Bill sponsor Rep. Bam Carney, R – Campbellsville, said SB 151 is a comprehensive reform plan and would save $300 million in 30 years. After passing the House, the bill moved onto the Senate where, after hours of back and forth debate, passed by a vote of 22-15. SB 151 contains no changes to cost of living adjustments, which will remain at 1.5 percent. There are no changes to the number of years needed to serve in order to receive benefits. New hires would enter a hybrid cash balance plan. Kentucky is among the nation's worst-funded pension system, $41 billion short of the money needed to pay benefits over the next 30 years. The bill now heads to Gov. Matt Bevin's desk.
* In the wake of the passage of SB 151, several school systems across the state closed their doors on Friday including Johnson, Martin, Pike and Knott County schools in our area. It is unknown at this time if teachers are planning any kind of a long-term work stoppage.
* Here is a statement from Johnson Co. Schools Superintendent Mr. Thom Cochran: 
Late last night both bodies of the Kentucky General Assembly passed pension reform for all state employees.  In Johnson County, due to the number of staff absentee calls received Thursday evening and the lack of adequate substitute coverage, the Johnson County School System cancelled classes for Friday, March 30th.  Supt. Thom Cochran wishes to express his support and committment to the Eagle Family of students and employees; present, retired and future.  
* Kentucky Attorney General Andy Beshear released a statement/video on Friday morning that says he intends to file suit to stop SB 151.