Free health services and door prizes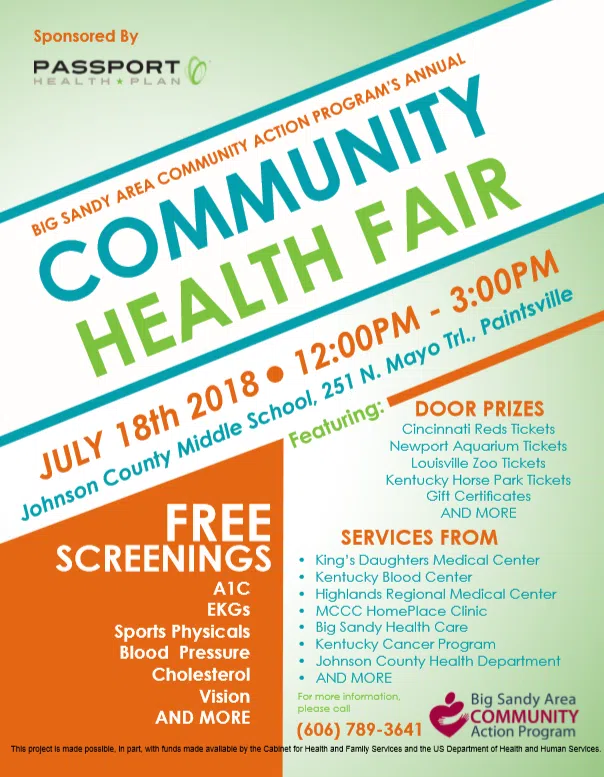 The annual Big Sandy Area Community Action Program Community Health Fair for Johnson and Magoffin Counties will be held on Wednesday, July 18 from 12 p.m. to 3 p.m. Johnson County Middle School Gymnasium, located at 251 North Mayo Trail, Paintsville.
The event is free and open to the public and will offer everyone the chance to connect with area healthcare providers and programs geared toward enhancing our health. In addition to healthcare information, there will be free health screenings, outreach materials, giveaways, and a variety of fantastic door prizes.
Big Sandy Area Community Action Program representatives will be on hand to help visitors learn more about their employment and training services for people of all ages, their Weatherization program, Garden Seed program, and host of other services aimed at helping eastern Kentuckians achieve self-sufficiency.
A wide variety of organizations will be present to share information and services with the public, including: Anthem BlueCross BlueShield, King's Daughters Medical Center, Highlands Regional Medical Center, Paul B. Hall Regional Medical Center, Big Sandy Health Care, Kentucky Blood Center, Turning Point Domestic Violence Services, Kentucky Cancer Program, Mountain Comprehensive Care Center's HomePlace Clinic and Healing Program, Big Sandy Community and Technical College, and many more.
Healthcare providers will be offering free EKG's, sports physicals for kids and teens, non-fasting blood work, A1C checks, vision screenings, information on diabetes prevention, health insurance options, the opportunity to connect one-on-one with healthcare providers in the area, and more.
Door prizes this year include tickets to the Cincinnati Reds, the Newport Aquarium, the Louisville Zoo, and the Kentucky Horse Park, a one day pool pass for a family of four at the Ramada Inn of Paintsville, gift cards, and more. The Kentucky Blood Center also will be onsite and all blood donors will be entered to win 2018 Toyota 4-Runner.
This year's Community Health Fair is overflowing with prizes, screenings, and information. So get ready to have your questions answered and connect with local people who can help you find your way to health success.
This program is funded, in part, by the Community Services Block Grant made available by the Cabinet for Health and Family Services and the U.S. Department of Health and Human Services. For more information about Big Sandy Area Community Action Program Community Health Fair, contact Big Sandy Area Community Action Program Resource Representative Edith Hill at (606) 789-3641.