The Cincinnati Reds have acquired RHP Lucas Sims, RHP Matt Wisler and OF Preston Tucker from the Atlanta Braves in exchange for OF Adam Duvall. The deal came one day before the non-waiver trade deadline at 4 p.m. Tuesday.

Adam Duvall
The Reds acquired Duvall on July 30, 2015, in a trade that sent Mike Leake to the San Francisco Giants. Duvall, 29, played parts of four seasons in Cincinnati. He hit .235 with 84 home runs and was an all-star in 2016. This year, he was hitting .205 with 15 home runs and 61 RBIs.
* Tucker, 28, will join the Reds on Tuesday in Detroit as they start a two-game series against the Tigers. He was a seventh-round pick by the Houston Astros in 2012. He hit .256 in 62 games with the Braves this season and also appeared in 15 games for Triple-A Gwinnett.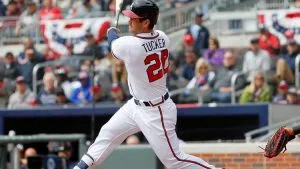 Preston Tucker
* Sims, 24, was the 21st overall pick in the first round in 2012. He made his big-league debut in 2016 and was 3-6 with a 5.62 ERA in 14 appearances and 10 starts. He was 4-3 with a 2.84 ERA in 14 starts this season at Triple-A and had a 7.84 ERA in six appearances with the Braves.

Lucas Sims
* Wisler is from Bryan, Ohio. The San Diego Padres drafted him in the seventh round in 2011. He made his big-league debut with the Braves in 2015. This year, he was 1-1 with a 5.40 ERA in seven games.

Matt Wisler
* The Reds will be in Detroit to face the Tigers Tonight and on Wednesday. Game time is set for 7:10 PM tonight and 1:10 PM Wednesday and available on WKYH 99.3 FM and AM 600 in Paintsville.