The Paintsville/Johnson County Chamber of Commerce held it's annual award ceremony on Monday evening at the Ramada Conference Center.
Former Chamber President Fran Jarrell was remembered and honored at the event.
Jarrell passed away in August of 2017.
Mark McKenizie, current Chamber President, awarded Jarrell the O.T. Dorton President's Award, which was accepted by Fran's sisters.
Keynote speakers for the evening included Chuck Sexton of One East Kentucky, Ben Rainwater of EnerBlu, and Nate Haney of Braidy Enterprises.
Each of the speakers spoke highly on growth of the region, and the local workforce.
---
Lynette & Laurel was awarded the Upstart Award, a new award category added this year.
---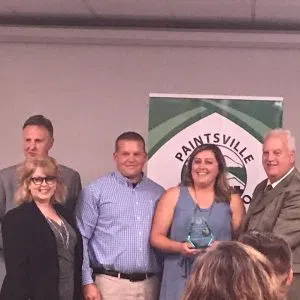 Griffith Family Farms was awarded Small Business of the Year.
---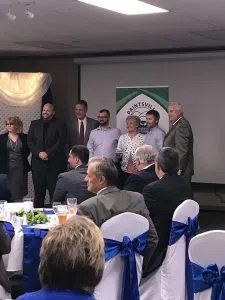 Appalachian Wireless was awarded Large Business of the Year
---
Kathy Walker was awarded Business Person of the Year.
Paintsville Mayor Bill Mike Runyon presented Walker with a key to the city.